Fleet
Our partners in the cement industry – which include the largest corporations in the industry – rightly place great value on the on-time delivery of a clean product. They appreciate the benefits of BALTRADER ships and secure our comprehensive services with long-term volume contracts.

Technical Characteristics
The focus of our strategy is a qualitative growth and the steady modernization of our fleet. Since the MV CEMSEA was commissioned in 1995, BALTRADER has continuously expanded its fleet. Currently selfdischarging cement carriers are operated in the fleet. These closed systems offer our customers decisive advantages in the transport of cement, ground granulated blast furnaced slag and dry fly ash:
Clean loading and unloading since cement dust is avoided
No contamination or clumping of the cargo due to water ingress or cargo residues
Loading and unloading unaffected by weather as a result of closed loading and discharging systems
Ability to plan accurately and ensure punctual delivery
With the acquisition of MV CEMISLE in 2009, the largest ship to date at about 6700 t (DWCC) was integrated into the fleet. The average age of all BALTRADER ships is 10,6 years after conversion.

Facts & Figures
Overview of the most important facts and figures about the BALTRADER fleet:
Fleet size: Currently twelve specialized cement carriers between 3000-6700 t (DWCC)
Average load capacity: Approximately 4445 t (DWCC), opimized for the demands of the current customer base as well as for the current shipping area
Average age: About 10,6 years after conversion
Equipment: All vessels are equipped with a modern pneumatic selfdischarging system (european technology) which offers significant advantages compared to ordinary conventional bulkcarriers in the field of efficient cement distribution
Cement carrier – Fleet Overview
| | |
| --- | --- |
| Type of vessel | Cementcarrier with pneumatic selfdischarging equipment |
| Flag | Cyprus |
| Converted | 2001, August |
| Management | German |
| Class | G.L. +100 A5 E2 with freeboard 2,459 m +MC E3 AUT |
| Cargo Intake | Abt. 3.000 mts |
| DWAT / Draft | Abt. 3.180 mts on abt. 5,0 m sfb |
| Dimensions | Length over all: 87,92 m, beam: 12,80 m |
| Loading | By gravity, or by pneumatic loading from shore installation or from trucks/waggons |
| Discharging Equipment | By pneumatic discharge at an average of 150 mts/hr |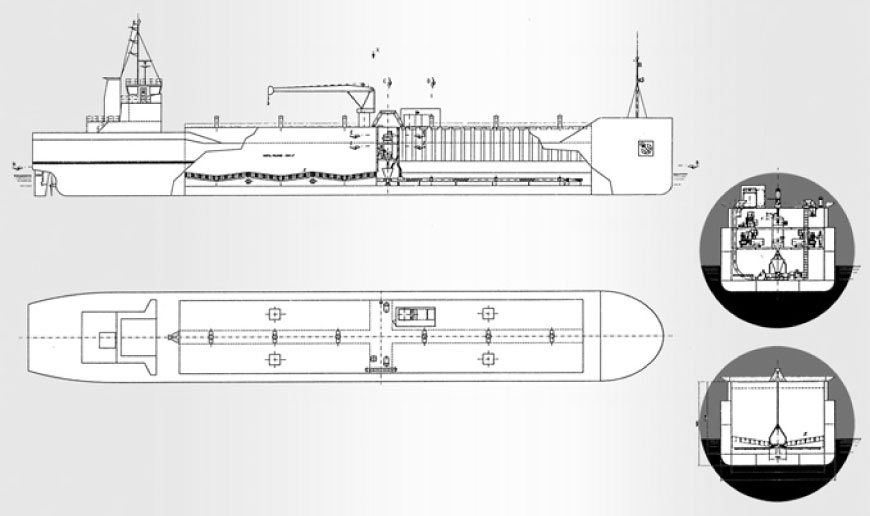 All details believed to be correct, given in good faith but without guarantee.