Die Flotte
Unsere Partner in der Zementindustrie – zu denen die größten Konzerne der Branche gehören – legen zu Recht größten Wert auf die termingerechte Auslieferung eines sauberen Produkts. Sie schätzen die Vorteile der BALTRADER-Schiffe und sichern sich unsere umfassenden Services durch langfristige Mengenverträge.

Technische Merkmale
Im Fokus unserer strategischen Ausrichtung stehen qualitatives Wachstum und eine stetige Modernisierung unserer Flotte. Seit Indienststellung des MS CEMSEA im Jahr 1995 hat BALTRADER seine Flotte kontinuierlich weiter entwickelt. Aktuell betreuen wir Zementfrachter mit pneumatischen Selbstlöschvorrichtungen. Diese geschlossenen Systeme bieten unseren Kunden beim Transport von Zement, Hüttensandmehl, Hüttensandgriesen und Flugasche entscheidende Vorteile:
Sauberes Laden und Löschen, da die Emission von Zementstaub vermieden wird
Keine Verunreinigung oder Verklumpung der Ladung durch Wassereintritt oder Ladungsrückstände
Witterungsunabhängiges Be- und Entladen durch geschlossene Transportsysteme
Exakte Planbarkeit und hohe Terminverlässlichkeit für die Belieferung der Bauindustrie

Zahlen & Fakten
Hier finden Sie die wichtigsten Zahlen und Fakten zur BALTRADER-Flotte in der Übersicht:
Flottengröße: Aktuell 12 spezialisierte Zementfrachter zwischen 3.000 und 6.700 t (DWCC)
Durchschnittliche Tragfähigkeit: Rund 4.445 t (DWCC), optimal für die europäische Silogrößenstruktur
Durchschnittsalter: Rund 10,6 Jahre ab Umbau
Ausstattung: Alle Schiffe verfügen über modernste Löschsysteme mit pneumatischer Selbstlöschvorrichtung (europäische Technologie), die im Bereich der Zementlogitik wesentliche Vorteile gegenüber Minibulkern bieten
Flottenübersicht Zementfrachter
| | |
| --- | --- |
| Type of vessel | Cementcarrier with pneumatic selfdischarging equipment |
| Flag | Cyprus |
| Converted | 2001, August |
| Management | German |
| Class | G.L. +100 A5 E2 with freeboard 2,459 m +MC E3 AUT |
| Cargo Intake | Abt. 3.000 mts |
| DWAT / Draft | Abt. 3.180 mts on abt. 5,0 m sfb |
| Dimensions | Length over all: 87,92 m, beam: 12,80 m |
| Loading | By gravity, or by pneumatic loading from shore installation or from trucks/waggons |
| Discharging Equipment | By pneumatic discharge at an average of 150 mts/hr |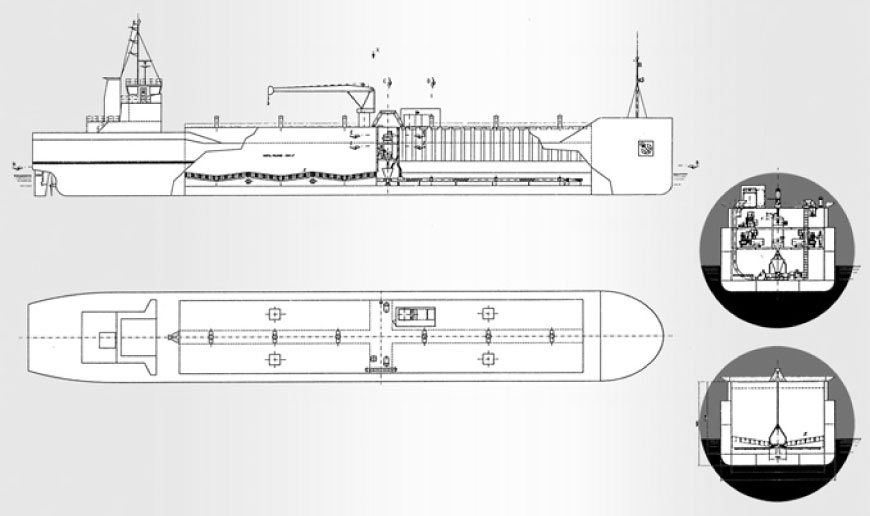 All details believed to be correct, given in good faith but without guarantee.